17 May 2010
Well, let's see. Still looking for a real job. Have been cooking again at the restaurant, which is fun and tiring. Mr. Henderson (guest chef) was lots of fun and a pleasure to work with.
Farmers' market report: asparagus, spinach, spring shallots, lemons, local sand dabs, Monterey Bay sardines, green garlic, eggs, and some pink anemones.
Not at all surprised that most Gourmet subscribers are unwilling to have foisted on them a subscription to the tacky and uninformative Bon Appetit. What were they thinking? The only possible replacement would be Food & Wine, but that's much too fear-based (e.g., the editor's need to reassure its readers that yes, you can serve white wine with lamb) and lick-spittle with regards to the latest faddish "chef." Saveur is either exhausted or in a fallow period. I've let my subscription lapse. And Cook's Illustrated (or whatever it's called now) is still a font of misinformation and bogus advice derived from its pseudo-scientific "tests." Contrary to CI's suggestions, you do not need a special wooden tool to move the oven racks in and out – that's what your color-coordinated pot holders and towels are for.
26 April 2010
Farmers' market report: peas, asparagus, spring shallots, green garlic, Fuerte avocados, limes, savory, dried figs, fava beans, and a bunch of yellow
Fremontia
.
I made a little ragout of the fava beans with some green garlic and savory as part of a light lunch. Perfect with a glass of Torrontes.
Still have a nasty cold, aggravated by on-going hay fever. We think the Fremontia flowers (heavy with pollen) are contributing the hay fever, so I moved them outside.
Some movement on the job front – keep your fingers crossed for me.
21 April 2010
Well, no farmers' market report this time as I was in L.A. for a quick trip. We went down to celebrate a friend's birthday. We had some good, home-style Thai and Oaxacan food (not at the same place, duh, but both were in ugly strip malls), and a nice brunch at Ammo. We went to the big Getty to see two exhibits, one on
medieval architecture in illuminated manuscripts
and the other on the photographs of
Frederick H. Evans
. Both are highly recommended.
And tomorrow, I think, is the seventh anniversary of this blog. Many changes, no?
OK now -- it's back to job-finding!
14 April 2010
Well, not a palindromic date, exactly, but a new moon, which is a good time for new beginnings.
What's new? Still looking for a job. Had a promising morning of interviews earlier in the week. Please keep your fingers crossed for me -- I think I would like this job, even though the commute would be Los Angeles-style, and would involve rush-hour traffic in one city, a bridge, a tunnel, and more rush-hour traffic on a very congested corridor. I am ready to have a job again.
Things with Green Eyes are still going well. He's a gem.
I've been cooking a lot more, both at the restaurant and at home.
Oh, yes, a farmers' market report: violet artichokes, small Savoy cabbages, spring onions, green garlic, nettles, eggs, blood oranges, tulips, and orange ranunculus.
20 March 2010
Equinoctial farmers' market report: asparagus, spring onions, broccoli di Cicco, dates, blood oranges, yellow narcissus, and orange tulips. Not much this time because I will be cooking four nights at the restaurant.
Quoi d'autre? On Wednesday we saw Desmond Tutu on tour to promote his new book, Made for Goodness. Very interesting to hear him again, although the interview covered the usual ground.
On Thursday we attended the Meatpaper/Blue Bottle Coffee/My Barbarian evening at SF MOMA – lovely sausages, a nice warm evening for the rooftop "sculpture" "garden," and a nice ice cream sundae (a hot shot of espresso poured over Secret Breakfast ice cream (bourbon with corn flakes)). And then a lovely evening at Terroir.
No news with respect to finding a job, alas. Must keep fingers crossed.
15 March 2010
Well, let's see: Spring Weather is finally here. The birdies are chirping and the sun is shining. One little bird kept us awake in the wee hours with its imitation of the five-pattern car alarm (whoop-whoop, beep-beep-beep, da-Da-DAH, bee-bop bee-bop, etc.). It was very uncanny. Life imitates art.
Farmers' market: asparagus, delicate young mustard greens, green garlic, kumquats, blood oranges, Marsh grapefruit, prunes, red freesias, and purple-and-white tulips.
I've been cooking a lot more lately – made a little dinner for my family last Friday: "Dover" sole breaded with panko and fried in clarified butter with a squeeze of Meyer lemon, asparagus, and a cunning gratin of chard and spinach (wilted and chopped) on a bed of well-cooked mushrooms, shallots, and onions, a quick béchamel poured over the the greens, and a few buttery breadcrumbs. Hot oven for 20 minutes until bubbling.
Last night felt like pasta night, so I made a quick red sauce for some lovely cavatelli. Pecorino instead of Parmesan for grating over the top. We had, unorthodoxly, a lovely 2006 Etoile from Domaine de Montbourgeau (mostly Chardonnay, but aged "sous voile" for several years, which gave it a lovely oxidized nose and the scent of hazelnuts. Imported by Neal Rosenthal.
4 March 2010
I spent the day yesterday with my parents making about a thousand ravioli (1,004 to be exact). Most had our family's traditional meat and spinach filling, and I made about twelve dozen with a walnut-and-green-pea filling. As you can see below, we rolled out the dough by hand and used one of those old ravioli rolling pins to make the individual ravioli.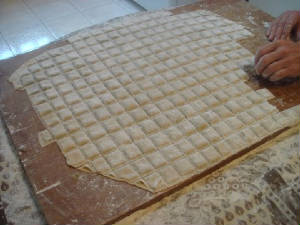 27 February 2010
The news from Chile: shocking and very sad.
Farmers' market report: blood oranges, Marsh grapefruit, tiny kumquats, wild rocket, artichokes, frisée lettuce, a Pinkerton avocado, and yellow and pink tulips.
We had the grapefruit, avocado, and rocket in a little salad for lunch, and I cooked some beet greens with garlic and then poached eggs therein (spread out the greens, make a little pockets or nests and crack an egg into each one, and set over medium heat, covered, until the eggs are done to your liking.) And then a few homemade hamentashen (a gift from a friend for purim/lunar new year).
Still no news on the job front, alas. Must keep fingers crossed.
25 February 2010
I got an unexpected call yesterday asking me to work at the restaurant. It was a good, but long, shift – I did the vegetables for the main course – potatoes sautéed in butter and peas with lettuce and spring onions. I decided that it would be good to turn the potatoes instead of peeling them – 300+ little spuds that had to be shaped into beautiful little barrels. My hands are sore today from holding a knife and heavy pots for hours and hours. Not used to that these days.
I have been reading more Proust – starting out in French and then skimming the English translation (the new Penguin edition) to see what I missed in French. Lots of nuances, as it turns out.
I'm looking for work, but taking it a bit easy today. Waiting for the UPS to deliver my DSL modem so that I can get back on the internets at faster than 48K baud.
Thinking about travelling again, too. Somewhere close, like L.A., Harbin Hot Springs, or even Esalen.
It's definitely Spring now. Last night, on the way to the car, the air was heavy with the sent of plum blossoms, and today the birds are chirping and the sun is shining through the open windows of my apartment. It could be worse, no?
23 February 2010
Well, hello there. I'm not sure if anyone is still reading this, but perhaps that will change.
Where have I been? Africa, and then I got laid off (by e-mail). And since then, searching for work. I was turned down for one job yesterday and another one this morning. Still have a few irons in the fire.
I've also been cooking a few shifts at the restaurant where I used to work – it's nice to do something I'm still good at.
Reading a lot: Walter de la Mare's Memoirs of a Midget, Tahar Ben Jalloun's Partir, Nigel Slater's Kitchen Diaries and his memoir, Toast, and also The Closing of the Western Mind, The Myth of the Rational Market, Le Côté de Guermantes I, The Te of Piglet, New Orleans Cuisine: Fourteen Signature Dishes and Their Histories, and a few other things.
Farmers' market report: it's turning into spring! The first asparagus of the season, cardoons, wild arugula, an odd Chinese green whose name I have forgotten (like choi sum, but with wider leaves), blood oranges, Marsh grapefruit, eggs, and an Acme pain au levain.
And things with Green Eyes are still going well.
See you soon?
7 October 2009
Everything is fine. Just taking a break. See you around.