26 February 2006

Just in time for Lent: one of my neighbors put his Xmas tree out with the garbage on Saturday.

25 February 2006

Farmers' market report: a Pinkerton avocado, white Malaysian guavas, blood oranges, tangelos (see photo below), rapini, beef, and tulips.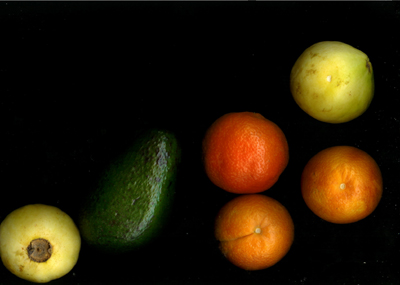 A picture of my new boyfriend (or his younger brother) is on the cover of the March 2006 edition of Gourmet magazine.
It must be old boyfriend day. At the farmers' market I ran into a guy I briefly dated at the end of last year. It was a friendly but unsatisfactory exchange. Tonight the young'un I met at Folsom Street called me, out of the blue, to reminisce, etc., etc. I almost invited him over.
I wish I were going to be on Fifth Street tomorrow to help warm someone's kitchen.
24 February 2006
Oh, hello there. Remember me?
Very long week of school. Not enough sleep. The highlights: a very nice dinner at Canteen on Wednesday. We had asparagus salad with a poached egg and truffle vinaigrette, crab quenelles with a spicy cauliflower purée, and then scrod with green garlic, potato brunoise, and hazelnuts (!), and a Parmesan flan with wild mushrooms. For dessert, a rum cake with cinnamon ice cream, and chocolate croquettes (OMG — molten chocolate encased in a very light and crispy batter). We drank a simple but nice German Gewurztraminer. And then I came home and did homework until 1:30 in the morning. Wednesday was a good food day for me. For lunch I went to the tamale stand near trade school and got a green pasilla tamal and a pork mole tamal, both wrapped in banana leaves. I had a liverwurst sandwich for lunch today. The flavors of my childhood.
What else? No news from the gym, except that I saw my two favorites in the locker room (and yes, I may have taken a v-e-r-y long time tying my shoes while they doffed their gym togs, and by the way, this blog is, in fact, written by a 14-year-old girl posing as a 40-year-old gay). I think I might have to admit that I have a type: tall, tan or light brown skin, muscley but not overly worked-out, dark curly hair (the kind you want to lace your fingers through), and a hairy chest, late 30s. Scruffy beard or clean shaven, it doesn't matter. Mmm.
No significant touching to report, alas.
Tonight I went to a small benefit for a gay charity and met a local socialite who was introduced to me by a gay zombie (well, a gay man dressed as a zombie (he was heading over to Union Square for tonight's big zombie march)). It was a nice group of Gays, and not the usual ones I see around. But what's the big deal about Grey Goose vodka? I had my first vodka "martini." A palid imitation of the real thing.
20 February 2006
A very quiet day in Sonoma (see below). It was bright and cold when we woke up. We had quiche (!) and tea for breakfast. I studied for a bit and read magazines and did the dishes while our hosts went for massages at a local spa. We all enjoyed the outdoor shower. It was only comfortable while I stood under the hot water; when I reached out for the soap or shampoo I got goose bumps. Since our hosts don't like fabric softener any more than I do, the towels were big, thick, white, and invigoratingly rough. We took a walk a mile or so up the hill, past the vineyards, to the little redwood grove. We saw quail and birds of prey and the neighbors. It's nice to have generous and hospitable friends.
19 February 2006
Howdy from Sonoma County. I'm sitting in an overstuffed chair in the niche next to the kitchen of our hosts' country house ("country pavilion" would be a more apt description). The sun is setting behind me over the Pacific. A small storm has just passed by. We could see sheets of rain falling over the ocean, though, here, a few miles inland and a thousand feet up, it's still sunny. Deer are grazing in the clearing below the house. For dinner we're making a brodo from the bones of a roast chicken. We'll have it with artichoke ravioli, and then lamb chops and then I don't know what for dessert. Something strawberry.
The drive up here was beautiful. Most trees are still bare, but the new grass is freshly green and covers every hillside. Bright yellow drifts of mustard blooming in fields outside of Novato. The fruit trees, too, are in full bloom. Big tufts of pink and white punctuate a green carpet in an otherwise wintery landscape. On the way from Petaluma to Occidental we stopped in the hamlet of Freestone to pick up some freshly baked bread. Everyone there, customers and staff alike, had an aura full self-satisfaction. I bet they were all from Marin. My hosts no longer drink, so what I'm acutely conscious of is my desire for a glass of wine right now. One day at a time.
The cold spell has passed. The brief snow flurries on the hilltops made the front page of the paper. I know that everyone else will laugh when I say it was a bitterly cold 40 degrees here, but we feel it more. We don't have the clothes for cold weather, and most buildings are only cursorily insulated and rather optimistically heated. I never got my apartment warmed up on Friday morning (I just put on a down jacket while I ate breakfast and had my tea). I came back in the afternoon, about six hours later, and it was 54 degrees in the warmest room. I tried to improve the efficiency of my wall heater by cleaning out the dust, but I ended up just stirring crap up, so when I turned the heater back on, the dust started to smolder, the smoke detector went off (it's three feet from the heater), and I had to open all the windows to clear out the haze. My neighbors are so used to my fire alarm going off that they no longer bother to check on me.
Friday afternoon I got very good news about a project at school. I got the position I've been coveting for months. The official announcement hasn't been made yet, but I went home and updated my résumé to reflect my new role.
I then went my favorite wine shoppe in Hayes Valley and bought four bottles of wine: one for myself to celebrate, and three for a dinner party that night (five guys, three bottles, that should have been enough, but it wasn't). The dinner was delightful. I met up with my newest friend and his ex at the gym. We bounced over the hill to Noe Valley. There were only two seats in the Jeep (long story), and since I was the smallest person, I got to cling like a monkey to the passenger, one thigh on the seat and the rest of my body cantilevered over the gear shift. Fortunately, it wasn't a long trip. Our host had remodeled the basement apartment of his family home (grandmère lives upstairs) to make a perfect urban niche. He did all the work himself. I wish I were that talented. Comfortable but masculine furniture. Beautiful plates and nice glasses. What I loved was the bourgeois comfortableness. Nothing particularly expensive or fancy or showy, but everything was pleasing to the eye and the senses. The food was delicious and Levantine (grandmother was an immigrant and was happy to help him prepare dinner for his friends). Dessert was various pastries from Tartine. Our host is a lawyer and is super cute. Maybe I had one-evening crush on him. I don't even begrudge him his tall, dark, handsome, and sweet boyfriend. After dinner, all five of us spread out on the giant couch to watch a movie. There is no TV in the apartment , but his handy DVD projector fills the only useful role of a TV set. We watched a DVD of Brokeback Mountain, which our host had purchased for three bucks on the subway in NY. Every half-hour or so a message scrolled across the bottom of the screen, indicating that this copy was for "awards consideration only." Since we had all seen the movie before, we amused ourselves at first by noting all of the anachronisms in the background. We also passed around a bottle of Black Label scotch and had a swig whenever Jack or Ennis did. We quieted down toward the middle. Anne Hathaway's scene at the end, when she tells Ennis on the phone how Jack died, blew my mind again. No dry eyes on the couch.
Farmers' market report (brought to you by Diane): white Malaysian guavas, oranges, lamb, rapini, dandelion greens, and prunes. The guavas are very ripe and fill that corner of the kitchen with a heady tropical perfume.
Minor touching to report from Saturday, but nothing to warrant the revocation of my Certificate of Secondary Virginity from the Vatican.
16 February 2006
My brain filled up around noon today. I've temporarily stopped learning new things. No more room. Fortunately, I didn't have too much more absorption to do. A little beer in the afternoon, and then the gym, and a visit to the bookstore (just to look at magazines) rounded it all off.
I think my job interview on Monday is not going to lead to anything. What am I doing wrong?
Plans for the next few days: unload the *$*(&#) dishwasher so that I can put the dirty dishes somewhere. Lazy, busy, and wicked in my ways. Studying. The gym, of course. Writing the big paper I've been ignoring. Making travel plans for spring break. Reservations for a friend's birthday dinner next week. Paying the bills. And a little touching?
Will it snow here in the next few days? It sure feels like it.
So Chimpy is satisfied with Cheney's explanation for shooting his friend in the face. Well, what else is Chimpy going to say? It's not as if he could fire Cheney. The only way to get Cheney out of office is impeachment. (Yes, odd, but true. The president can't himself remove the VP from office.) Let's see. Nine and a half months left of this year. Then 365 days next year. And then ALL of 2008, and then first 20 days of 2009. Gentlemen, start your prayers.
14 February 2006
Happy Valentine's Day, dear readers. And Happy S.A.D.
I think one of my neighbors had himself a happy Valentine this afternoon. Just as I was coming home, I saw one of San Francisco's Resident Porn Stars/Escorts coming down my neighbor's steps. Dating for dollars? Someone's probably taking a nice long bubble bath right now.
And, in very other news, Edna Lewis died yesterday. She wrote a classic, The Taste of Country Cooking, and, more recently with Scott Peacock, The Gift of Southern Cooking. She was the granddaughter of a slave and became a chef in New York City. The NY Times and the Atlanta Journal-Constitution both have good obituaries.
13 February 2006
A long and busy weekend:
Fried chicken dinner on Friday. I got up early to get the chicken so that I could cut it up and let it marinate in buttermilk all day. I made a special trip to the Mission to buy fresh lard (how fun to take the freeway across town!). I made collard greens, mashed sweet potatoes, tomato gravy, and cornbread, and a pineapple upside-down cake for dessert. Lots of wine and good conversation.

Farmers' market report: beef, dandelion greens, rapini, blood oranges, white Malaysian guavas, and tulips.

Then a nice picnic lunch with the gays in Dolores park. My first sunbathing excursion of the year.

I then came home and did my taxes, both state and federal, and finished applying for financial aid.

I was so tired on Saturday that I took an 8 PM nap on the couch. After about a half-hour, I gave up and retired to bed.

I spent a good part of Sunday indoors, practicing for the competition next month. Lots of high-energy, loud, and competitive people. Am I sure I want to practice this trade?

I discovered at the last minute that I have no nice black belt to wear with my suit. I went to the Castro before the gym Sunday evening thinking that I would be able to find one at one of the many clothing shoppes. No luck. The only black belts to be found were for Jack-and-Ennis poseurs. BIG buckles, wide straps, and rawhide.

So I went beltless to my interview this morning. I can never tell how these things go. Keep your fingers crossed for me.

Lots of schooling today, and then two receptions. One at school and a large one for the gays, supporting a city supervisor. I wore something fetching to the latter, but alas, got nowhere. Although I realized that someone I didn't know was reading this may, in fact, be reading this. Hello, KW. (Do me a favor and don't spill any more beans.)

No touching to report (at least none that I recall).
8 February 2006
More and more warm weather. I hope it's warm enough on Saturday for me to go to the beach.. We moved team practice outside this afternoon because no one could stand being trapped in another windowless classroom for one more minute.
The gym was not entirely productive because I spent most of my time there chatting (gossip, Chimpy's unconstitutional acts, why I didn't watch the Grammies, Brazil in March, and so on.)
Maybe I'll go to Atlanta instead! They have an active chapter of the South American Outreach Project and lots of good food. And, according to the Atlanta Journal-Constitution, it's only dirty Yankees who would put yellow cornmeal or wheat flour into their cornbread. The sugar I can do without, but no flour? Surely that can't be right. Kooky.
And, Dear Diary, I had a little conversation with my muse at trade school today. Guess what? He saw me outside and came over to talk to me! Sigh. He told me about going to see the surf competition at Maverick's on Tuesday morning.
And I was very pleasantly surprised to see a picture of someone I know this morning at Chad's. The photo doesn't do justice to his sweet-heat sexiness, but I think you can still feel the charm. I'll give you three guesses as to which guy . . . [And I just have to note that all but one of the photos seems to have been taken in the daytime. Badlands by night is one thing, but during the day?]
7 February 2006
I'm loving the usual February heat wave. Sunny, warm, and bright. I should have gone to the beach today instead of my one class. Instead, I studied. I'm on call all week in one class and likely to get called on in another. Since it was free-admission day, I took myself to the Asian Art Museum to see the exhibit of 18th-century Kyoto painters.
And then I somehow spent a long time this afternoon poking through Fowler's Modern English (1927) instead of studying.
I've shaved off my beard to see whether I'll stop attracting Daddies at the gym. In the last few months I've become bacon for bears. Too bad my tastes don't run very far in that direction.
I've also tried to switch to a more circuit-style workout (no, I'm not taking steroids, listening to "important" DJs on my Ipod [think different], and planning White Party outfits). I'm bored with the back & biceps, chest & triceps, legs & shoulders routine, so I'm doing a little of everything each day. Self-perception is an odd thing. I got I nice complement about my bust (along the lines of "I saw you the other day and I wish my chest looked as nice as yours") from a guy who's my height and easily 30 pounds more muscular than me. What's he thinking? I wish I had a chest like his (and arms and shoulders and back and thighs and calves and abs).
For dinner I went to two different stores because I thought the price of tuna was too high. I ended up saving 49 cents and wasting 25 minutes. It's hard to buy vegetables in the store now after seeing the real thing at the farmers' market. I made a little white bean and tuna salad with capers and Meyer lemon and baba ganoush (!). Delicious. Dates for dessert.
I still haven't figured out why I get more visitors on Tuesday than any other day of the week.
5 February 2006
A palindromic date coming up tomorrow (Monday). Make the most of it.
A very long weekend. By Thursday night I was pooped and was tired of being around people. I stayed home, studying, until my brief afternoon appointment. After the gym, I returned to my cave for more hibernation. I had a nice bottle of wine or two with old friends at Hôtel Biron, my favorite neighborhood wine bar. A German rosé and then an Australian Shiraz. Neither were my choices, but I liked them both. And a nice plate of cheeses and charcuterie. I came home early to iron my outfit and shave off the beard and slide under the covers.
Saturday I got up at 6:30 so that I could help out at school with the Big Event. I spent the day there, trying to make myself useful. I think the Event went quite well. Attendance was good and the panelists were interesting. I'm hoping that my visibility and general helpfulness will lead to a position of responsibility next year as the changing of the guard is about to occur. I'm keeping my fingers crossed. Select members of the staff had a nice dinner afterwards. A chance to bond and drink together. Tales were told. I may have introduced two of my young (straight, female) colleagues to the evocative expression, "It was as big as a baby's leg."
I also landed an interview next week and have leads on two other job possibilities. All is not lost.
Only minor touching to report. No farmers' market report as I was in the bowels of a conference center all day on Saturday.
Today was a day of little communication with the outside world. I didn't leave the house until about 4:30 when I went to the gym. Spoke to almost no one, went to Rainbow to stock up on some groceries, and returned home to my books. And no, I did not see the Superbowl. I never have.
What's up this week? AG Gonzales will be perjuring himself before Congress on Monday, the trial of Enron's Kenny Boy continues ("Why, I don't know nothin' about numbers!"), and more importantly, I get a haircut.
3 February 2006
A new month. Happy Imbolc.
Observed recently:
Two Maserati Quattroportes on Thursday evening – a light brown one in my neighborhood, and a beautiful dark blue one parked in front of the St. Regis. The most beautiful car now made.
I also saw a young man urinating on a bike rack in front of the gym this afternoon. The sun caught his stream and made a bright arc of it to the astonishment of everyone on Market Street. Stay away from the drugs, kids, or you could be doing the same.
All the senior-citizen security personnel who used to work at SFO have now been deployed as museum guards and security staff at state-owned facilities. Their work ethic remains blissfully unchanged: passive-aggressive incompetence.
I also saw a gentleman in his 70s in the showers at the gym with a penis the size of a beer can (soft). He was soaping the thing up. Golly. I washed my eyes out with soap and left quickly, lest it tumesce.
(And how were the sweet potatoes with the roast chicken?)